6 Toros 6, November 2000 » The Swedes - from Sweden | Peña Taurina "Los Suecos" - the biggest and the oldest taurine club in the north of Europe
In Spanish

The web of





The web

Our Magazine

The Editorial





ONE OF THE FOUNDERS

Lars O Swärd R.I.P.





Paquito Karlzén





Ingvarón Jungefors





Ricardo Delgado





El Ruedo 1.975



La primera noticias
sobre "Los Suecos"
en la prensa española


Visit at "Miura"

AWARDS

Don Antonio Burgos 1999

Awards bullfighters

Manolo Vázquez, Paco Ojeda, Jose Antonioö Campuzano and others.....

The famous
"alternativa" of......

"El Niño de la Caseta" at the Plaza of tientas of Marqués de Ruchena (Sevilla).

The 30th Anniversary

The 30th Anniversary

La Opinion (Murcia)
Septiember 13th,
2.005
"Los Suecos prefieren a Morante"




"GALLITO" 2.006

MORÓN DE LA FRONTERA, March 11th
"Morante de la Puebla" y la GLORIA




"Un torero con dominio..."








"Morante de la Puebla"





Taurine photos





Sebastián Castella

Manolo Montoliú | Become member | The Board | Texts i English


More about 'Los Suecos - IN SPANISH
San Sebastián de los Reyes: The Swede Mikael Anderson, Guiri 2019, a friend of the Sanse fiests for six years and passionate about the encierros for 36 years. "Aquí no me hago el sueco"

Our dear member Claes Karlzén "Paquito" died June 8, 2019 - RIP, Paquito was our vice president for many years and he was also Consul of Spain in Gothenburg, Sweden

The photographer Paco Cano died July 27, 2016 - Nuestro más sentido pésame - Q. E. P. D. don Francisco Cano - Socio de Honor de la Peña Taurina Los Suecos

In Madrid on 3 October 2015, the Peña Taurina Los Suecos celebrate the fortieth anniversary of its founding.

On February 24, 2014 died our great friend Lars O Swärd, one of the founders of our peña and our president for decades. R.I.P.

Aficionados International is an organization dedicated to educating the English reading public about the performance art that is the "Corrida de Toros"

The matador Andres Zamora Vazquez gave a lecture in Lund (Sweden), which convinced even the anti-bullfighting groups. Christer Oleby, Swedish painter and friend of Andres Vazquez, tells in a long conversation about common experiences (in Spanish)

New issue of El Cartelitito - Tribute to Antoñete - pdf - in Swedish
'Stefanito' and Chenel >>>

John Patrick Hemingway (EEUU), Guiri del Año 2011, Pamplona (Vídeo - in Spanish)


PRESENTES: Lore Monnig (EEUU), Guiri del Año 2005. Lars Ingvar Jungefors (Suecia), Guiri del Año 2006. Manfred Walloschke (Alemania), Guiri del Año 2007. Massaoud Sbai (Marruecos), Guiri del Año 2008. Frank Taylor (Reino Unido), Guiri del Año 2009. Chiyoshi Sugawara (Japon), Guiri del Año 2010. John Patrick Hemingway (EEUU), Guiri del Año 2011."La Peña Taurina Los Suecos" justifica este nombramiento en la "lucha continua en pro de la fiesta y para que se dé el reconocimiento que merece al arte de la tauromaquia por ser la más bella de las bellas artes". (EFE, 10-12-2010)

Vargas Llosa y la montera de Curro (In Spanish)


"Este Vargas tan torero cumplió el sueño de la peña taurina Los Suecos de Estocolmo, la de Lars Swärd, el compadre de Curro. La montera que Curro nunca le emprestó a su compadre para que se la enseñara a los socios de la peña mientras veían una vez más el vídeo de lo de Antequera, o lo de Almería, o lo de Sevilla, la plantó Vargas Llosa en la Academia Sueca. La montera de un excelentísimo señor académico de Bellas Artes de Sevilla, del Toreo como Bella Arte, ante la Academia sueca." (Antonio Burgos, ABC, 8-12-2010)
Our club was founded in Madrid, in May 1975, by four Swedish aficionados who had run, coincidentally, into each other during that year´s Feria de San Isidro. They where encouraged by - among others - the well known president of the Peña El 7 Don Tomás Martín "Thomas"(Q. E. P. D.) from Madrid.

Today our club has become the oldest taurine club of all times in Sweden, and the most numerous, with 90 members. The major part of the members reside in Sweden but we´ve also got members living in Spain, Denmark and the USA.
Over the years Los Suecos has become quite well-known and quite popular in the entire Taurine World, and along the road, quite a few honorory memberships have been awarded, for instance to:

-Don Juan Carlos I, King of Spain
-Don Antonio Ordóñez, (Q. E. P. D.) Matador
-Don Camilo José Cela, Autor and Nobel Prize winner
-Don Francisco Cano, taurine photographer
-Don Francisco Romero López, Curro Romero, Matador
-Don Mario Vargas Llosa, Autor and Nobel Prize winner
-Don AndrésVázquez, Matador
(See "actividades".)
Los Suecos and the King of Spain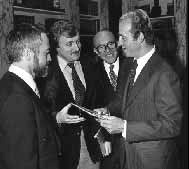 The Spanish Embassy in Stockholm, Sweden, October 18th, 1979 His Majesty Don Juan Carlos I, King of Spain, grants the Peña Taurina Los Suecos audience in the presence of the Spanish Ambassador. The Peña Los Suecos appoint the King, Member of Honor.
To see the photo - click here.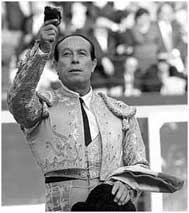 CURRO ROMERO - Honorory member.
Curro Romero in Valencia on the day of his 40th anniversary as Matador de Toros, on March 18th, 1999

The traditional lunch with Curro Romero - click here.
Furthermore, our club has awarded several prizes and thropies, among others to:

-Don Eduardo Miura, (Q. E. P. D.) breeder of Toros Bravos - "miuras"
-Don Francisco Ojeda González, Paco Ojeda, Rejoneador and Matador
-Don Juan Antonio Ruiz, "Espartaco", Matador
-Don Enrique Ponce, Matador
-Don Julio Aparicio Díaz, Matador
-Don Juan Serrano, "Finito de Córdoba, Matador
-Doña Cristina Sánchez, Matador
-Don Julián López "El Juli", Matador
-Don Sebastián Castella, Matador
Awards in Seville 1999
The solemn distribution of the club Los Suecos´s prizes "La Feria 99" took place in the comfortable lounges of the sevillan hotel Bequer, on Saturday 24 of April.
Don Antonio Burgos did received his prize personally, the trophy dedicated to the taurine magazine APLAUSOS was received by its representative, the journalist Juan Belmonte, in the presence of the photografer ARJONA.
The plaquete dedicated to the magazine 6TOROS6 was received by José Carlos Arévalo.
The ceremony was supervised by the President of the club, with the usual feeling for exactitude. The secretay "Gallito" and the acting Vicepresident "Er Niño de la Caseta" did ad joy and laughter -without moderation - to the event.
More about these awards - click here.
El secretario "Gallito"
More awards, Camilo José Cela, Matadors - click here
Los Suecos and the spanish press - click here.
A tribute to the fantastic Torero José Manuel Calvo Bonichón "Manolo Montoliú.
Manolo Montoliú - click here.
Members
New members got to be recommended by one person that already is member of the club
The annual member fee is 300 SEK (coples 400 SEK)
As member you ...
have access to the "Videoteca" of the club

receive the magazin "El Cartelito" one time (articles in Swedish, Spanish and English) and El Cartelitito four times annualy

five DVD:s - with some of the best corridas - annualy

may take part in two subsidized gatherings yearly (preferably in Sweden)

are allowed to buy "peñista-utensils" at cost prices

will get to know new taurine comrades with an endless amount of "alegría" and "afición"

Göran Svärd "Espada"
Presidente

Birthe Ryder
vicepresidente/-a

Erik Ros
secretario


Martin Sundberg
vicesecretario



Rick Ernstsson
tesorero



Arne Ericsson "Gallito"
Vocal



Jan Zadig
contable
Our (previous) PR-man is Ricardo Delgado, if you´d like to get some information concerning the PR of the Taurine Club "Los Suecos", or if you´d like to have a copy of any of Ricardos photos, don´t be in doubt, just contact Ricardo.
For the moment Ricardo hasn't got e-mail nor phone.
ANDREA TAYLOR AND RICARDO DELGADO
Ricardo Delgados BULLFIGHT-PHOTOS - TEXTS IN ENGLISH OR SWEDISH
RICARDO - TAURINE TEXTS
MORE IN ENGLISH BY ÁNDREA AND RICARDO - click here.